---
About this event:
Created by SportsNutritionistJames
---
Core Collective #01-04, Studio 0
A workshop by Dr. Tomassini and James Yeo
Join Chiropractor Dr. Kevin Tomassini and Sports Nutritionist James Yeo for this one of a kind workshop!
Surviving Pain – Proper exercise and food to help you recover faster.
Topics that they will be covering:
A) Physiology of an injury
B) Exercise and therapies for recovery
C) Nutrition for recovery
This workshop is free, so hurry reserve your spot now!
About Dr. Kevin Tomassini
Dr. Kevin Tomassini is a U.S.A board certified Doctor of Chiropractic with a sound background in the fitness industry. He has practiced in U.S.A and has been providing his services in Singapore since 2013. Whilst he has helped many of his patients when they are injured and in pain, others seek his help to optimize their fitness and performance. His practice focuses on integrative corrective spinal care through the use of Chiropractic, Active Care, Nutritional Consultancies, and Exercise Prescription.
Dr. Tomassini is an educator at heart. Currently, he continues to share his knowledge with others by holding wellness workshops and health talks in his practice, as well as at other organizations, corporations, schools and health events. Some of his most popular workshops focus on posture & ergonomics, pain management without medication, stress management, weight loss, nutrition, metabolism, injury prevention, and athletic development.
Prior to becoming a Chiropractor, Dr. Tomassini was a Track and Field athlete, worked as a fitness trainer and a Physical Education teacher. He is passionate about fitness, surfing, traveling, food, and music. Dr. Tomassini is originally from Puerto Rico a beautiful island in the Caribbean.
About James Yeo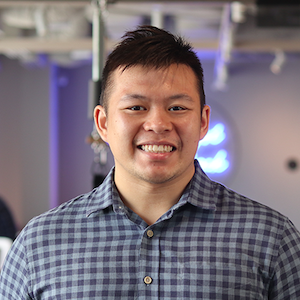 With a niche in weight management and sports performance, James empowers different individuals, including competitive athletes, salespeople, and busy business owners to achieve their fitness goals in the most successful and sustainable way possible.
Holding multiple qualifications from both exercise science and nutrition, James links both exercise and nutrition together to a paint a fuller picture on how to better measure and manage your health, fitness, and nutrition to reach out to your goals. He believes that eating towards your best body doesn't require any sacrifice in taste.
James also holds rich experiences in both the exercise and performance nutrition industry. His experience includes sports coaching and personal training. He has also held multiple talks with various notable companies, such as Orchid Country Club, Unilever Network and train-the-trainer workshops on Performance Nutrition with Personal Trainers. James is a client-centered performance nutritionist: He meets you where you are, gives you what you need, so you can achieve what you want. No matter what you' re going through, if you have a goal, James will have a solution. James produce results.